Payout will fund life-long care for Cerys Edwards, 6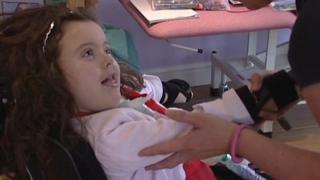 Cerys Edwards was only 11 months old when a speeding driver rammed into her parents' car, leaving her severely injured.
Five years later, her family have agreed a settlement with an insurance firm of nearly £5m and annual payments of £450,000 which will fund Cerys' care for the rest of her life.
Richard Langton, the solicitor for the Edwards family, who are from Sutton Coldfield, West Midlands, said Cerys had suffered "catastrophic injuries".
"A brain injury, she's on a ventilator and paralysed and so she needs 24-hour care," he said.
Antonio Singh Boparan, of Little Aston, Sutton Coldfield, was jailed for 21 months for the collision.
Boparan, who was 19 at the time of crash in November 2006, was released under curfew conditions after serving six months.
It prompted Cerys' parents, Tracey and Gareth, to petition the government for tougher sentences for dangerous driving.
'Specially-adapted house'
The family's battle to care for Cerys, now aged six, also continued and in 2008, two years after the crash, Mrs Edwards said she was worried about how she would pay for her daughter's long-term care.
But Mr Langton, a managing partner with Russell Jones and Walker, said Boparan's insurers had now paid interim payments of about £4m, which will be deducted from the final settlement.
"Over the years we've got interim payments of compensation so she has been well-looked after by a private team of carers and she has moved into a specially-adapted house," he said.
"A lot of the money that has been awarded today covers these past costs."
He said the key part of the agreement had been the index-linked annual payments.
Mr Langton said Cerys had a team of "at least" 12 nurses and carers who ensured she was looked after around-the-clock.
He said agreeing the final settlement had taken a long time because it had been important to assess Cerys' long-term needs.
"Cerys has for some time been defying doctors and making some incredible recoveries that the doctors didn't think she would ever make," he said.
"And it's important when we are looking at valuing the case for the rest of her life that we make sure that we have included absolutely everything that she could possibly need.
"So yes, it does take a long time, but it is for her best interests."
Mr Langton said in the very early days doctors believed Cerys would not have any quality of life.
"But she does get pleasure out of life and can communicate," he said.
'Badly-injured little girl'
The solicitor said Cerys had some limited movement in her limbs.
"She can express pleasure and pain and does respond to Tracey by moving her legs and arms."
He said "every penny" of the compensation was essential, adding the pay out meant Cerys' future care would not be funded by the National Health Service.
Mr Langton added the Edwards family were relieved funding had been secured for Cerys' long-term care.
"But the fight goes on - they will continue to seek improvements in her condition, to get treatments," he said.
"They are looking positively to the future, although obviously they have got a very badly-injured little girl."