Cerys Edwards injured by speeding driver awarded £5m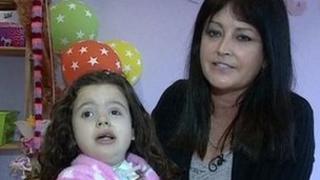 A six-year-old West Midlands girl who suffered severe brain damage in a car crash involving a speeding driver has been awarded nearly £5m compensation.
Cerys Edwards, of Sutton Coldfield, has needed 24-hour care since the crash in 2006, Birmingham's High Court heard.
Cerys's family will in addition receive £450,000 a year for the rest of her life.
Antonio Singh Boparan, of Little Aston, Sutton Coldfield, was convicted of dangerous driving in April 2008.
Boparan, who was doing more than 70mph in a 30mph area, was jailed for 21 months but released under curfew conditions after serving six months.
'Saddest cases'
Cerys's parents Tracey and Gareth campaigned for tougher sentences for dangerous drivers.
It led to the then Justice Secretary Jack Straw proposing an increase in the maximum two-year jail term for dangerous driving to five years.
Cerys was 11 months old when Boparan's Range Rover hit her parents' car head-on in November 2006.
Since the collision, she has been unable to breathe without a ventilator, has needed dozens of operations and round-the-clock nursing care.
The final settlement, which was reached between Boparan's insurers and the Edwards family, was approved by Judge Martin McKenna at Birmingham's High Court.
Judge McKenna said it was "one of the saddest cases" he had ever come across.
In a statement Mitsui Sumitomo Insurance Group said Mr Boparan's liability for the accident that caused Cerys's injuries had been admitted in 2008.
"We would like to express our profound sympathy for the catastrophic injuries suffered by Cerys and for the suffering of her parents," the company added.
RoadPeace, a national charity representing road crash victims, welcomed the court decision.
Amy Aeron-Thomas from the charity said: "While these sound like large amounts to many people, the amounts they equate to winning the lottery... the family have been given a life sentence and no amount of money can compensate them for what they have suffered."
Boparan, the son of a millionaire, was 19 at the time of the crash.
'Most worrying thing'
His barrister told the High Court Boparan offered an unreserved and full apology for the crash and its consequences.
Richard Langton, the solicitor for Cerys's parents, said most of the £5m would cover past costs which had enabled them to move to an adapted home and pay for a team of nurses and carers.
The family had already received interim payments of about £4m from insurer Mitsui Sumitomo Insurance Group, he said.
Mr Langton added that the key part of the settlement for Cerys was the annual payment of £450,000.
"Overall, depending on how long she lives - and that's completely uncertain, nobody knows, it could be 20 years, it could be 30 years - the total amount of compensation paid is likely to be in the region of £10m to £15m."
Mr Langton added the family welcomed the settlement.
"It's not a time for great rejoicing. They are at least pleased that they know Cerys's needs will be looked after for the rest of her life," he said.
"Any parent in this situation can imagine that the most worrying thing is what's going to happen in the future.
"Now they know that, whatever happens, there will be money to look after Cerys."