Solihull statue vandalised by metal thieves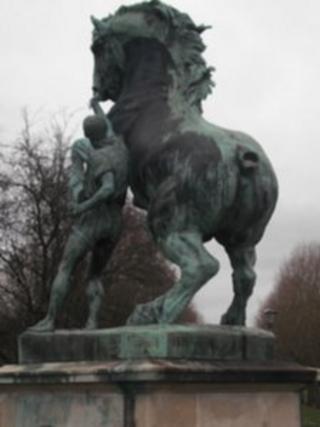 A bronze statue of a prancing horse has been vandalised by metal thieves, leaving it with no tail or right front hoof.
The sculpture in Malvern Park, Solihull, is believed to have been damaged by vandals on Thursday night or early on Friday morning.
The Horse of Tamar, created by Sir Joseph Edgar Boehm, has been part of the park since 1953.
Police are trawling CCTV and scrap metal dealers have been alerted.
Ch Supt Sally Bourner said: "This is one of Solihull's most treasured sculptures, it's a very sad day when someone attacks it for just a few pounds worth of scrap metal.
"The statue itself is hollow so the value of metal taken is relatively small."
"Officers have launched an enquiry to catch those responsible and we will also be looking at ways of tightening security at the statue site."
Insp Darren Wilson, from Solihull Neighbourhood Police, is appealing for witnesses or anyone with information.
He said: "The tail piece is around two or three feet long and would be fairly weighty, it's not the kind of item that's easily concealable, so I'm hoping someone will have spotted the thief, or thieves, walking away from the scene."
The statue was given to the borough by Captain Oliver Bird, High Sheriff of Warwickshire in memory of his father Sir Alfred E Bird Baronet.