Plaque to honour Malcolm X visit to Smethwick in 1965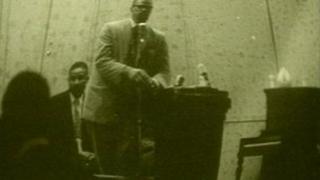 Malcolm X has been honoured with a plaque in Smethwick almost 50 years after he visited the West Midlands town during heightened racial tensions.
The civil rights campaigner gave interviews in 1965 in Marshall Street, where white householders were lobbying the council to buy up houses to prevent black or Asian families moving in.
The father-of-six was assassinated nine days later in New York.
A blue plaque has been unveiled on the side of a house in Marshall Street.
Malcolm X made the surprise visit in February that year after addressing the first meeting of the Council of African Organisation in London.
'Passionate and outspoken'
The idea for the plaque was first suggested by the Nubian Jak Community Trust, which organises Britain's only Black and Minority Ethnic national plaque scheme.
The trust said it had previously commemorated figures including singer Bob Marley and slavery abolitionist and author Mary Prince.
Spokesman Jak Beula said: "It is an honour to be involved in commemorating Malcolm X with a blue plaque in Britain on the anniversary of his passing 47 years ago.
"As an international figure for civil rights his impact was felt far beyond the shores of the United States and Africa.
"Indeed, one of his legacies was a contribution to the desegregation of residential housing in Smethwick."
Sandwell Council's cabinet member for leisure services, Councillor Linda Horton, said: "Malcolm X is an important historical figure whose visit to Sandwell was a landmark in race relations."
In 2005, a film was released marking the 40th anniversary of his visit to the Black Country.
Speaking at the time, film-maker Steve Page said Malcolm X was "passionate, outspoken and controversial".
He was shot just over a week later, as he began a speech at the Audubon Ballroom in Harlem.
Thomas Hagan, the only man to have admitted his role in his killing, was released from a New York prison on parole in April 2010.
He said two other men convicted with him were not involved. They were release on parole in the 1980s.