Man found guilty of murdering flatmate in Walsall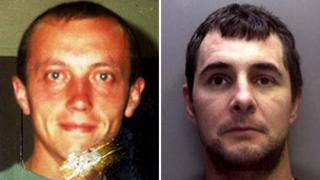 A 38-year-old man from the West Midlands has been found guilty of murdering his flatmate in Walsall.
Earl Clarke, of Batchley Road, Redditch, was convicted of killing 48-year-old Bradley Hamilton, following a trial at Wolverhampton Crown Court.
Police said that at the time of Mr Hamilton's death the pair were sharing a flat in Rowley Street, Chuckery.
The jury also found Sounaynah Morabir, 23, of Wheelwright Road, Erdington, guilty of assisting an offender.
Mr Hamilton had allowed Clarke and Morabir to occupy a room in his flat, the court heard.
The prosecution claimed that on the evening of 6 November 2010, Clarke violently assaulted Mr Hamilton, causing him a number of serious injuries which resulted in his death.
Clarke admitted in court that he had argued with Mr Hamilton over his drinking and admitted he had punched Mr Hamilton after he allegedly threatened him with pepper spray, but Clarke did not believe he could have caused his death.
'Protective older brother'
Det Insp Andy Hawkins, the senior investigating officer in the case, said: "Bradley Hamilton was tragically killed in the sanctity of his own home.
"A post-mortem revealed he suffered multiple injuries caused by a severe level of force, the pattern of injuries being consistent with being punched, kicked or stamped upon.
"A number of times throughout the investigation both Clarke and Morabir failed to mention that any violence had taken place in the flat and both actively sought to cover up the assaults.
"They lied to police and the ambulance service and in numerous statements to police in interviews Clarke stated that he had caused no harm to Mr Hamilton.
"Neither Clarke or Morabir have shown any real remorse for what happened, instead they focused on trying to cover up Clarke's involvement in Bradley's death.
Tracey Jefferies, Mr Hamilton's sister, paid tribute to her brother, after the guilty verdict was returned by the jury after a four-week trial.
She said: "He was well liked by everyone and had plenty of friends. Bradley was a very protective older brother to me and he was a caring, loving son, father and grandfather.
"He had four children and three grandchildren that all loved him.
"His death has affected every member of my family and we all miss Bradley. Every day we think about him."
Clarke and Morabir will be sentenced on Tuesday.