Sex workers: Handsworth convent helps victims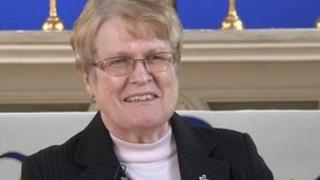 A West Midlands nun has been talking about the work she does helping vulnerable people, including victims of sex trafficking.
Sister Helen Ryan belongs to the St Mary's Convent of Mercy in Handsworth, Birmingham, where she said she works with up to 50 people a year.
She said many were members of the migrant and refugee population and some of them "destitute" asylum seekers.
Miss Ryan said: "So much illegal trafficking is underground - we don't see the evidence on the streets unless people come and talk to you.
"I'm in the fortunate position of meeting with those people who will tell me their story.
"My main function is to try and get some support, I don't ask them what faith they come from, my priority is to get them help and refer them to social services or other agencies, whatever their background."
Recently Miss Ryan, a former inspector of schools, found help for an 18-year-old Chinese girl, found locked in a cage at a brothel in the city after a raid by West Midlands Police.
She said: "That was an extreme case, some weeks there are no calls and other weeks I help up around three people, including girls working in prostitution, some of whom have been trafficked in."
The convent receives no government funding and functions as a charity, relying on public donations and financial support such as money recovered from criminals.
According to West Midlands Police, the force's Economic Crime Team seized more than £2m of cash in 2011 and Miss Ryan and the her team of five nuns at St Mary's Convent of Mercy recently received £5,000 towards their work.
Miss Ryan said: "I think the police have been fabulous - they use special units to deal with trafficking which makes the process of getting someone help fairly smooth because we're immediately able to call that unit.
"But we've got to be the eyes and the ears too, we shouldn't just leave it to other agencies and groups like Anawim [that works with women and children in prostitution] - we should be good neighbours and not ignore it.
"We're progressing but we do need more facilities, safe places, like those in London and we're working with [Birmingham City] council to try and look towards that."
She said her work - or calling - was both revealing and rewarding.
"My whole religious life has been committed to working with the poor and underprivileged, it's part of my commitment to my life."
"It's a ritual satisfaction as well as emotional, it's about giving others respect and dignity - I don't ask them what faith they come from, my priority is to help them whatever their background.
"If we can try and help them find a place to stay and get them the treatment and open different doors they're entitled to then we've done our job."