Metro tram network to return to Birmingham city centre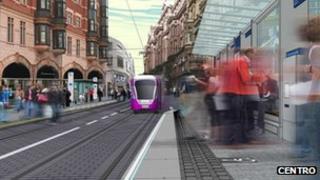 A £128m tram extension for Birmingham has been given final approval by Local Transport Minister Norman Baker.
The Metro line will link Snow Hill railway station with Birmingham New Street railway station, from 2015.
Mr Baker said it would "bring trams back to the heart" of the city and link the shopping and business districts.
The Department for Transport (DfT) said the scheme would provide a new fleet of trams, create 1,300 jobs and generate £50m for the local economy.
Proposals for the city centre tram link have been mooted by Centro, the West Midlands transport authority, since 2005.
Trams have been absent from the city centre since 1953.
Mr Baker said: "This... is great news for both the city itself and the wider West Midlands.
"It will provide a new, sustainable transport choice for those wishing to reach the city centre's bustling shopping streets and the emerging business district in Snow Hill."
The DfT will provide £75.4m towards the £128m total cost of the scheme, which is being led by Centro, in partnership with Birmingham City Council and the Black Country district councils.
The announcement means Centro has permission to buy a new fleet of trams, develop a bigger maintenance depot at Wednesbury and build the extension.
'Connected city'
Birmingham Chamber of Commerce Group chief executive Jerry Blackett, chief said: "By linking up our major railway stations within the city centre we move ever closer to creating a more integrated and well-connected city.
"It is vital for businesses that Birmingham has a good inter connecting transport system. The Metro has played a big part in the City's attempts to address this.
"With the development of New Street and a new high speed rail station located next to Moor Street the next ten years are going to be transformational for the City which will cement its position as the beating heart of the UK's transport network."
Work has already started to accommodate the tram route, with Centro starting to move bus stops in Corporation Street to make way for the trams.