Birmingham pub bombings: Victim's sister calls for inquiry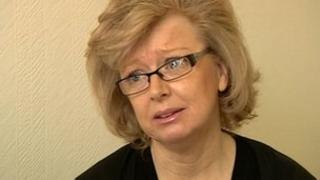 A sister of one of the Birmingham pub bombing victims has started a petition for a public inquiry into the attack.
Two bombs exploded in the Tavern in the Town and The Mulberry Bush pubs, killing 21 people, in November 1974.
Six men from Northern Ireland were jailed but their convictions were quashed in 1991.
Julie Hambleton wants a public inquiry to find out who was behind the blasts that killed her sister Maxine.
Her e-petition is called 21 Reasons to Re-open the Birmingham Pub Bombings Inquiry and requires 100,000 signatures by 1 December 2012 for the issue to be debated in Parliament.
The Court of Appeal ruled the convictions for the Birmingham Six were unsafe because they were based on unreliable forensic evidence and "confessions" obtained using violence.
No-one else has since been charged over the bombings.
West Midlands Police said in 2011 there were no formal plans to reopen the pub bombing investigations but "it would look at any fresh information that came to light".
Ms Hambleton said: "Only those who have been there know the grief and suffering that stays with you all your life. There isn't a day gone by that we don't think about her.
"Everybody has the right to have the murderers of their loved ones to be brought to justice. There were 21 people killed in the Birmingham pub bombings, who's investigating for them?"
Birmingham Selly Oak Labour MP Steve McCabe said he was "sceptical" about a public inquiry and thought it was "unlikely that would provide the answers".
He added: "They make an awful lot of money for lawyers and they don't always give you the outcome you're hoping for."
But Mr McCabe added: "I don't see why it shouldn't be discussed in Parliament. A lot of things not quite as important are raised as a result of e-petitions."
The MP said he thought the family deserved "some sort of closure".
Marcus Beale, assistant chief constable for West Midlands Police concluded: "We have every sympathy for the families of the victims but with no fresh lines of inquiry we are unable to reopen the investigation."