Terrapins thrown in rubbish are rescued from waste plant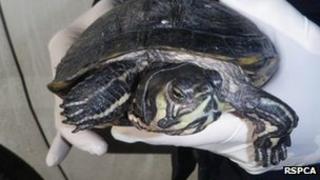 Two terrapins have been rescued in the space of a week from a waste plant in the West Midlands.
The first was left with a damaged shell after going through recycling machinery at the Walsall plant on 1 February.
A week later a second terrapin was seen on a conveyor belt just before it went through the machinery.
RSPCA inspector Daniel Cole said: "For anyone to discard a living, breathing animal like an unwanted piece of rubbish is despicable behaviour."
A specialist exotic vet has treated the first terrapin to be found, which is expected to make a full recovery.
Mr Cole said that dumping any animal in a manner likely to cause suffering was a criminal offence and said any such cruelty "will not be tolerated".
Ryan Bosley, from Biffa, which runs the Walsall plant, said: "We discovered the two terrapins a week apart so they had come in from two separate collections, which was quite a surprise for the sorting team.
"We have had all manner of things come in on the back of recycling vehicles in the past, including a rather large boa constrictor."