'Snow Champions' clear pathways in Sandwell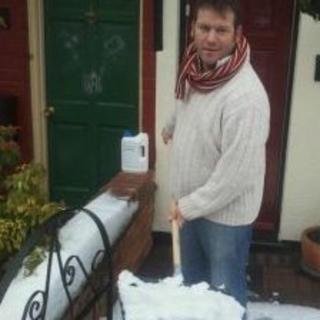 Dozens of people who joined a volunteer snow-clearing scheme in the West Midlands posted updates of their work on social media sites at the weekend.
In December, about 2,500 residents signed up for Sandwell Council's "Snow Champions" scheme and were given snow shovels and bags of salt.
Council leader Darren Cooper said: "Judging by the number of photos and comments that were posted on our Facebook page and Twitter feed, they were out in force and did a really good job."
He added: "This is community spirit at its highest level."
The volunteers, who were also given high-visibility jackets, posted pictures on Facebook, such as one showing the cleared pathway outside St John's Community Centre in the borough.
They helped keep pathways safe after the borough was covered in about 4ins (10 cm) of snow, the council said.
Mr Cooper who joined the scheme himself, said: "In my case, I was out clearing the paths and drives by where I live, including an elderly person's home around the corner."
Sandwell Council put weather and gritting updates on Facebook and Twitter.
Mr Cooper said the weekend weather showed the benefit of having a "strong media presence" as it allowed councils to keep residents updated and for people to share information.
However, some people complained on the council's Facebook page that roads near their homes had not been gritted, with one motorist saying she could not "get up any hill in Sandwell".
The council responded that it had treated more than 260 miles (418 km) of main roads by 1900 GMT on Saturday, as well as some side roads.