Coventry and Warwickshire on yellow ice alert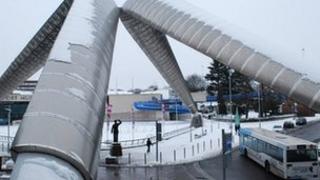 Coventry and Warwickshire are on a yellow alert for severe weather with icy conditions expected to follow the overnight snow.
The Met Office said 7cm (2.8in) of snow fell in Coleshill where temperatures did not get above -0.9C on Saturday.
Gritters were out in Coventry from 13:30 GMT on Saturday while those in Warwickshire have been out at least four times treating the roads.
An accident on the A46 near Kenilworth at 08:10 GMT did cause some delays.
A West Midlands Ambulance Service spokesman said a woman "had a lucky escape after her car collided with a lorry". She was taken to University Hospital in Coventry after being treated for "head, back and pelvic injuries".
The incident happened between the junctions for Leamington and Stoneleigh.
Emergency services had previously reported a quiet night with no major incidents.
The Met Office added that temperatures had been expected to reach 5C before dropping to -1C.