US Olympic delegation visits Birmingham facilities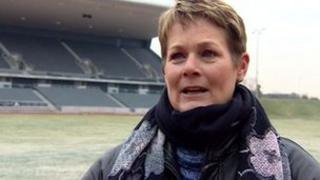 A number of officials from the US athletics team have visited Birmingham to inspect facilities they will use ahead of this year's Olympics.
The Alexander Stadium, which opened a new 5,000-seater stand last year, was among the places shown.
A spokesperson said a "variety of athletes" would use the arena, adding that it had "everything we need".
The US team is due to arrive in the city on 16 July. The opening ceremony takes place in London on 27 July.
Amy Deem, women's head Olympic track and field coach, said the delegation was "excited by what they had seen".
She said: "It's everything we need for our preparations going into London and the city of Birmingham has been very accommodating.
"We're really excited to get here in July and get our final preparations in before the games."
City councillor Martin Mullaney said bringing the US team to the Midlands was part of a "long-term aspiration to make Birmingham an athletics city".
He said: "We know that by having the team here every morning on American TV that they'll be filming from here... so Birmingham will be advertised to the whole of America."
Some 60 athletes from the Jamaican squad will also be based in the city ahead of the 2012 Games.