Threat of serious injury puts commuters off cycling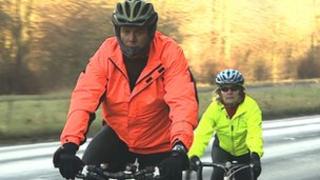 Dedicated cyclist Neil Mitchell has been clipped by a wing mirror once too many times.
At a time when people are being encouraged to cycle to work, Mr Mitchell, a VIP liaison officer for West Midlands Police, says he is considering giving up his 17-mile daily commute by bike for fear of being seriously injured.
He spoke out about the dangers of cycling on Britain's roads as figures were released showing the number of cyclists killed or seriously injured on roads in the United Kingdom has again increased.
Mr Mitchell, who cycles from his home in Stourbridge to Aston police station, said: "I've been in some pretty terrifying situations in my line of work, but actually what scares me the most is the cycle home.
"The amount of times I've been clipped with a wing mirror, had vans nearly knock me off and cars turn in front of me.
"It's a nightmare, and I'm trying to do the right thing by exercising and not using the car, but it's so difficult."
'Run the risk'
His family want him to ditch the bike too. They are terrified he is going to be seriously hurt.
His wife, Liz Mitchell, said: "I'd much rather him stop than run the risk.
"It doesn't make sense to me. I want a husband and a dad for our children - not a good man trying to do the right thing."
Data from the Department of Transport for the third quarter of last year showed that overall there was a 4% drop in the number of people killed or seriously injured on the roads.
Car and motorcycle incidents were down by 7% and 4% respectively and those involving pedestrians fell by 1%.
The same set of figures showed the number of deaths and serious injuries among cyclists has increased by 8%.
This follows increases of 10% and 8% in the previous quarters of 2011, and amounts to 3,000 cyclists killed or seriously injured on roads over the year to September 2011.
The average for 2005-2009 was just over 2,500 incidents a year.
Yvonne Gilligan, who works for Sustrans, a charity which helps people choose cheaper and healthy ways of travelling, cycles to work in Birmingham and wants to see a change in the attitude of drivers of motor vehicles.
She said: "The car has become king in many ways.
"But if we are serious about wanting more people to cycle, we need a really good debate about how cyclists and drivers share the roads.
"If car drivers played by the rules, and did what they're supposed to, then it would make our lives a lot easier, and a lot safer."