Meriden Gypsy protesters 'will not cease' campaign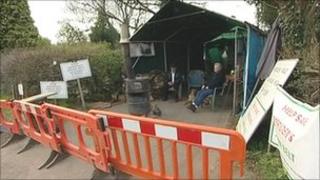 Residents who set up a camp in protest to an unauthorised Gypsy site have said they "will not cease" their campaign.
Solihull Borough councillors decided the protesters' camp should be taken down because it does not have planning permission.
Residents Against Inappropriate Development (Raid) said it would take the shelter down in Eaves Green Lane, but would not leave.
The council said it would not rush to evict the residents.
Raid members have been taking it in turns at a 24-hour vigil at the camp since they set it up.
'Treated the same'
Resident Dave McGrath said: "We are peaceful and law abiding people. If we're told to comply, our shelter will come down, we're not here to break the law.
"Many of the protesters here will come back and simply sit in the rain and snow and the mud because we're absolutely passionate that we're not going to cease our campaign until we see enforcement action against the illegal gypsy site.
"We're happy to go as soon as we see enforcement action, but we've been here for 642 days and if it takes day 1,000 to sort this campaign out we'll do that."
The Gypsy camp had been set up in Meriden on 30 April 2010.
Ken Meeson, leader of Solihull Council added: "If we were to basically ignore the encampment that's been set up by the protesters, as much as we have great sympathy for what they're doing.
"There is no leeway really for protesters in a situation like this.
"They have to be treated exactly the same as the travellers."