Birmingham gunfire sensors missed five shootings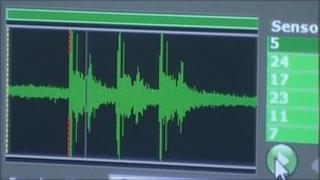 Gunshot sensors installed in Birmingham missed five confirmed shootings but detected dozens of unconfirmed incidents, police figures reveal.
The Shotspotter Gunshot Location System has apparently detected 106 shootings since December 2010, but only two could be confirmed by West Midlands Police.
Chief Constable Chris Sims said in a report it was not possible to say the system had been falsely activated.
A residents' group member said police had not kept communities informed.
But police said communities had been regularly updated.
Launching the project - Operation Safe and Sound - in 2010, the force said the sensors had been placed high up on buildings covered by the West and Central local policing unit, which includes Handsworth, Aston and Newtown.
It was the first time they had been used in the UK, after being introduced in more than 50 US cities.
The sensors record an audio clip and send a GPS location.
An officer trained to listen to the audio clips, makes a judgement on what has been heard before deploying police to the scene.
The devices have about an 85% accuracy rate and can detect a gunshot to within 25m (82ft), police said at the time.
Confirming the force would continue to use the system until at least November this year, Mr Sims admitted in his report to the police authority that there were issues with accuracy.
"In the absence of corroborating evidence (recovery of ballistic material, victims, reports from members of the public) it is not possible to confirm that a system activation indicating a discharge of a firearm is an actual discharge or a false activation caused by a loud noise from another source," he said.
'Active and alert'
The technical evaluation of the project attempted to assess the proportion of "positive and negative outcomes" from the system, he added.
"However, a true evaluation in terms of true and false results has not been possible."
The system was "paused" for six months following a routine live test fire by police in May last year as it did not meet its accuracy targets.
It heard 100% of shots discharged during the test but only located 75% within 25m (82ft) and some of the gunfire was misclassified as firecrackers, police said.
The system "remained active and alert" during the upgrade and it went live again on 9 November, he added.
It is not known whether the system was triggered when youths fired at police and a force helicopter in Newtown during rioting in the city last August.
Mr Sims said local communities, including traders' associations, resident groups and Birmingham Reducing Gang Violence groups, had been "regularly consulted and updated" about the system.
"This engagement confirms that some members of the community feel that the continued existence of the technology remains a good idea and is broadly welcomed," Mr Sims said.
Raj Rattu from a Handsworth residents' group and part of the force's Trust and Confidence group, said: "I'm not aware of consultation or feedback about the system as it's been used.
"I thought there would be more from the police, as they said there would be at the time it was introduced. It's disappointing."
The system was introduced around the time when so-called spy cameras, installed in largely Muslim areas of Birmingham without resident consultation, were removed.
Some of the cameras were hidden in Washwood Heath and Sparkbrook and paid for with £3m of government funds earmarked for tackling terrorism, which also angered residents.
Mr Sims later apologised for the lack of consultation.
When the gunshot sensors were installed, some residents had concerns about them picking up conversations but police said that would not happen.