Avtar and Carole Kolar murder accused dies in prison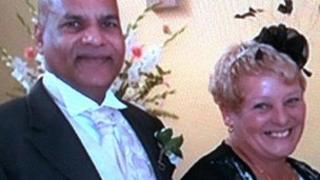 A man accused of murdering a couple in their Birmingham home has been found dead in prison.
Lithuanian Rimvydas Liorancas, 37, of Booth Street, Winson Green, was charged with murdering Avtar, 62, and Carole Kolar, 58, earlier this month.
Their bodies were found at their Handsworth Wood home by their son, an officer with West Midlands Police.
Mr Liorancas was found hanged in his cell in Woodhill jail in Milton Keynes on Saturday.
'Continue to grieve'
The police investigation into the couple's death will continue and the completed findings will now be presented to the coroner at the inquest, police said.
"The couple's family were informed at the earliest possible stage of the news and we are continuing to support them," they added.
A spokesman for the Prison Service said: "HMP Woodhill prisoner Rimvydas Liorancas was found hanging in his cell at 8.52am on Saturday 28 January.
"Staff attempted resuscitation and paramedics attended but he was pronounced dead at 9.30am.
"As with all deaths in custody, the Prisons and Probation Ombudsman will conduct an investigation."
In a statement, the couple's family said: "We understand the investigation into our parents' deaths will continue and the findings be presented to the coroner.
"We ask that we be left alone as we continue to grieve over the deaths of our mum and dad."
One of the couple's sons, Jason, who works for West Midlands Police, went to his parents' house on 11 January after being unable to contact them on the phone.
Police have said that post-mortem examinations revealed the pair both died as a result of blunt-force trauma to the head.