Walsall project could create 550 apprenticeships if approved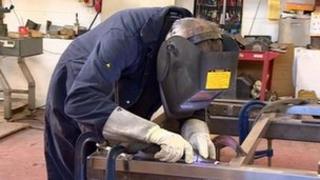 Some 550 new apprenticeships could be created in the West Midlands under a £2m plan proposed by Walsall Council.
The Conservative-controlled authority says it is responding to youth unemployment levels in the area which are nearly twice the national average.
A council spokesman said the Walsall Works project would provide a "real opportunity" to work with "a company that has a proven track record".
The plan for the scheme goes before the council's cabinet next month.
Kurt Lang, director of Truck Engineering Limited based in the town, hopes to take on at least two apprentices as part of the scheme.
Mr Lang said: "We're hoping with the right candidates we're going to offer them permanent positions.
"We'll send them to college for three years and at the end of it all offer them full-term employment."
All prospective employers will receive a wage subsidy of £3,000 for each apprentice they take on.