Birmingham celebrates Chinese New Year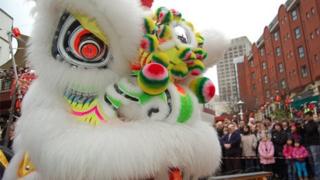 Thousands of people have been celebrating Chinese New Year in Birmingham as the city marks the Year of the Dragon.
The free annual celebrations in Birmingham regularly attract some 20,000 people throughout the day.
Events at the Arcadian Centre and Patrick Centre included performances by traditional Chinese dancers and musicians as well as acrobats.
Council leader Mike Whitby said it was the city "celebrating its diversity".
He opened festivities alongside Birmingham's Lord Mayor Anita Ward at the Arcadian Centre in the Chinese quarter.
Traditional dragon and lion dancing launched the celebrations, which also included kung fu demonstrations, a parade and fireworks.
Mr Whitby added that it was important to mark the city's wider links with China.
"We're attracting hundreds and hundreds of millions of pounds of Chinese money into the city," he said.
"Our Chinese relationships are essential, they're good, they're cordial, but most of all they are economically advantageous."
Chinese New Year officially started on 23 January.