Families of injured soldiers to get new Birmingham home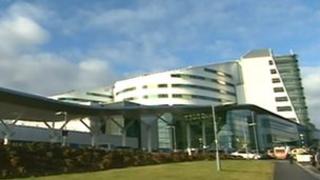 The families of wounded soldiers being treated at a Birmingham hospital will soon be offered free accommodation at a pioneering new facility.
It will enable relatives to stay near the Queen Elizabeth Hospital, where the UK's wounded personnel are treated.
The £4.2m building will have 18 en-suite rooms paid for by charities including Help for Heroes and the US-based Fisher House Foundation.
The first "Fisher House" for service families opened in the US in 1991.
The site is within walking distance of the hospital's Royal Centre for Defence Medicine.
Work will start on 23 April and the accommodation is set to open in February 2013.
'Finest quality'
Debby Edwards, a consultant nurse at Queen Elizabeth Hospital, said: "I think the new facilities are going to be vital.
"Families come from all over the country to visit their loved ones and I think if the soldiers know the families are being well cared for, that will speed up their recovery."
Squadron Leader Chris Stagles, from the Royal Centre for Defence Medicine, said: "It's going to be a massive improvement for the patients and their families that come and support them here.
"A new purpose-built facility is going to be ideal for taking the stress away from the family because they've got enough to deal with already."
The accommodation will be in addition to a smaller home that already exists near Selly Oak Hospital, where the Centre for Defence Medicine was before moving to the new Queen Elizabeth Hospital.
"It really is going to be a home away from home," said Mike Hammond, Chief Executive of the Queen Elizabeth Hospital charity.
"It's going to have the finest quality decorations and furnishings inside.
"Eighteen large family bedrooms, the house is going to be big enough to take up to 54 family members.
"And it's also important that it's going to be somewhere where the military patients can get off the ward and spend some time with their family and friends and mates from the regiment.
Presidential support
"We are very grateful to the support we've had from Help for Heroes and the Fisher House Foundation - between the two of them, they are putting in around £3m."
The foundation offered cash support after being approached for advice by the hospital.
The accommodation in Birmingham will be known as a Fisher House.
Ken Fisher, Chairman of Fisher House Foundation, said that his family began the project in the US as a straightforward gesture of support for the troops and their families.
US President Barack Obama and First Lady Michelle Obama have previously made a sizeable donation to the charity.