Sphinx statues to return to historic Birmingham house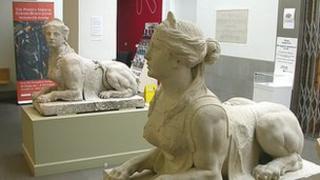 Two stone statues are set to return to a historic house in Birmingham as part of a £162,000 project to refurbish it.
The sphinx figures were originally owned by 18th Century industrialist Matthew Boulton and were in the gardens of his home, Soho House in Handsworth.
Acquired by Birmingham Museums and Art Gallery in 2001, the council said they will now take "centre stage" at the Grade II* listed building.
Plans for the Soho House Museum also include a new visitor centre.
There will also be a new permanent exhibition dedicated to Boulton who lived there from 1766 to 1809.
Two other rooms in the house will also be refurbished.
'Welcome return'
The project is being partly-funded by a grant from the Department for Culture, Media and Sport and the Wolfson Foundation.
The council said it acquired the statues at auction with money from the Heritage Lottery Fund and Arts Lottery Fund, placing them in the Industrial Gallery at the city's Museum and Art gallery.
It said when they were moved to Soho House, they would be housed in a ground floor gallery against a new glass wall which would "provide a visual link with the garden and house behind".
Councillor Martin Mullaney, Birmingham City Council cabinet member for leisure, sport and culture, said: "Soho House holds a unique place, not just in Birmingham's history but in the overall story of the industrial revolution.
"This project will enhance what is already a hugely popular museum and I'm delighted the sphinxes will be making a welcome return."
The council said work would begin in March with the new visitor centre scheduled to open this summer.