West Midlands charity BXL Services goes into administration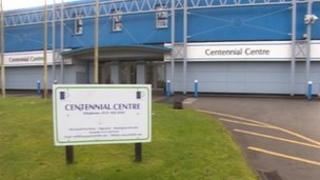 A West Midlands charity which provides education and training for thousands of young people has gone into administration.
BXL Services, based at the Centennial Centre in Birmingham, offers support to about 20,000 young people in the city and Solihull each year.
The charity, which employs 26 staff, has had problems making pension deficit payments.
A spokesman said they were "still hopeful for a successful solution".
BXL currently offers three main types of support for those in the area aged up to 19.
'Sad day'
The charity facilitates work experience placements, runs work-related programmes in schools and operates two educational centres in partnership with Jaguar Land Rover.
John Ling, chief executive of BXL, called it a "sad day" after calling in administrators PriceWaterhouse Coopers.
He said: "We have been battling against a substantial pension deficit for some time, one that we unfortunately inherited as part of the local authorities of Birmingham and Solihull taking over the Connexions contract in 2008.
"The board and our management team have explored every opportunity to find a solution to this problem, but all avenues have now been closed.
"Working with the administrators, we have identified a number of local organisations who have shown an interest in acquiring the operations of BXL."