Miss Undergraduate Birmingham: Student group objects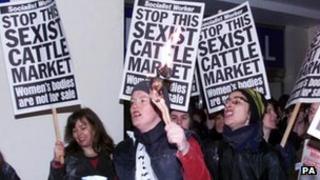 A group of students is objecting to an event being organised to judge female undergraduates from three universities.
Miss Undergraduate Birmingham begins later, with three heats before a final on 21 February.
Members of Birmingham University's Guild of Students have condemned the event, labelling it an "obstacle to equality".
But organisers claim the contestants will not be judged by their bodies and that money would go to charity.
Wearing ball gowns
A spokesman for the event, organised by Touch Promotions, said 20% of the profits from ticket sales would be donated to Cancer Research UK and money would also be collected by the contestants on each of the four nights. Tickets for each night cost £5.
He said the women taking part would be judged partly on how much money they collected on the night by getting as many of their friends as possible to attend and give them donations.
Paula Young, spokeswoman for Cancer Research UK, said: "Cancer Research UK relies totally on public funding and we couldn't carry on our vital work without the wide variety of fundraising our supporters take part in.
"We would only ever turn down a donation if we felt that the majority of our supporters would not approve of it.
"There are certain events that we will not accept proceeds from, such as those which are illegal or pose a risk to the charity and its supporters.
"We do not believe that taking money from a beauty contest falls into any of these categories."
She added the charity believed that its supporters would want it to accept the funds.
Alexander Blair, managing director of Touch Promotions, said the woman who raised the most money at each heat would automatically get a place in the final.
He added the event was about raising awareness and money for charity and also giving hair and make-up students the chance to practise their skills and video editing students the opportunity to film a live event.
He said: "It's a glamorous night but there won't be a swimsuit event.
"The criteria they will be judged on and how they proceed to the final will be how they answer questions, how their hair and make-up have been done by other students and how they are dressed on the night when they will be wearing ball gowns.
"I don't see the link with sexual objectification.
"They are judged in part on how they are dressed - not the form of the female body - and also how much money they have raised."
Students from the University of Birmingham, Aston University and Birmingham City University have all been invited to take part.
Sexual objectification
Mr Blair said there were about 40 contestants in total.
A statement on the Guild of Students website said: "Sexism, and sexual objectification are hugely damaging to the physical, mental and emotional health of young women.
"The acceptance of these beauty ideals have been directly linked with declining self-esteem, eating disorders and depression - all of which touch thousands of women country-wide, regardless of background and including students.
"Moreover, the 'Miss' in "Miss Undergraduate Birmingham" indicates the exclusivity of the pageant, establishing a framework for judging unmarried women based on a normative definition of beauty; ignoring the male and transgender communities at this university."
It added: "There is a broad consensus within the academic and student community that pageants like these, by judging students by false norms, are reinforcing social prejudices regarding sexuality, disability, ethnicity and body shape."
Mr Blair said the title Miss had been chosen as a name because most female students were unmarried, but he said married students were not banned from taking part.
Laura Tranter, 19, a Birmingham City University Student, who is studying graphic design at the Birmingham Institute of Art and Design, said she did not think the competition objectified women.
"It's important to consider we're all at good universities studying good degrees, it's [the competition] not our whole life," she said.
"It's to celebrate looking after ourselves, taking care of ourselves and celebrating feeling confident with our looks.
"It's for charity and is light-hearted. It's not sexist at all."