Fire crews use cameras in Rugby to search for terrier Alfie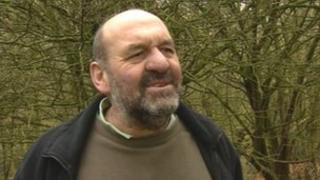 A dog owner has hired search experts and equipment that finds earthquake victims after his dog disappeared into a badger sett five days ago.
Rod Chivers has been keeping a vigil by a disused railway line in Rugby, in Warwickshire, since Alfie disappeared.
An underground camera was used first after Natural England granted a licence to search the sett.
Mr Chivers then agreed to pay £700-an-hour for the West Midlands Fire Service search team but has not found Alfie.
Mr Chivers said: "It's just the not knowing that's the destroying thing.
"Of course, it's the Mrs's dog and she died three years ago.
"It's my lifeline really."
Natural England allowed Mr Chivers and his family to employ a drain expert with an underground camera but despite probing 8m (26ft) of tunnels, they could not locate the terrier.
The fire service search team has used specialist listening devices and probes usually used to detect casualties in earthquakes.
The team repeatedly tested the area where Alfie was thought to be but said they could not detect anything.
Watch manager, Rob Norman, said: "With equipment we have, we've done as much of a search of that bank as possible I' m absolutely confident that if Alfie were there making any sort of indication, we would have located him.
"Unfortunately that hasn't been the case."
But, Mr Chivers said he was not going to give up.
"He's out there somewhere - we'll find him," he said.