Solar panels installed on Wolverhampton Civic Centre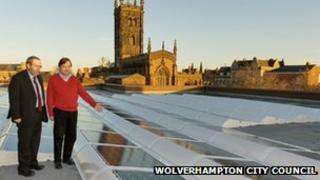 New solar panels on its Civic Centre roof will help cut energy bills and help the environment, according to Wolverhampton City Council.
It cost £123,000 to buy and install the panels.
The council said it anticipated they will have paid for themselves in around eight years.
Councillor John Reynolds, cabinet member for health and wellbeing, said: "We need to look at initiatives that will bring about savings."
The council said the panels would also generate an income through a scheme that will see the authority paid a sum of money by its electricity provider depending on how much power is generated.
Mr Reynolds described it as an "excellent investment" that would save money for the taxpayer.
"These solar panels will cut costs and bring in revenue for 25 years which is a welcome boost.
"We are also aware of our responsibility in reducing carbon emissions and this scheme will help us achieve this for a number of years to come," he added.