Midlands MPs demand reforms to scrap metal laws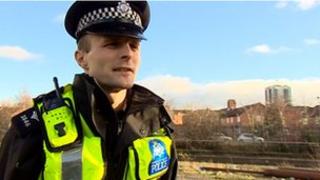 Black Country MPs are leading calls for changes to the law governing the trade of scrap metal.
Conservative MP for Dudley South Chris Kelly is a founder and chairman of an all-party group demanding reforms to fight "metal laundering".
A private member's bill is due to go before Parliament on 20 January.
Across the West Midlands £35m of metal has been stolen over the past four years, according to police forces in the region.
Responding to a Freedom of Information (FOI) request by the BBC Sunday Politics show, almost 30,000 incidents have been reported over that period.
The region's largest force, West Midlands Police said it had dealt with metal thefts worth more than £27m since 2008.
West Mercia Police reported a 95% increase in reported crimes in the past year alone (compared with 2009-10).
Staffordshire Police said in one incident in 2010, thieves had stolen metal worth more than £100,000 from a Stoke-on-Trent yard.
Railway and tram networks have been particularly targeted, including copper cable stripped from telecom lines running alongside track.
Sgt Dan Gregory said the fight against metal thieves was "second only to terrorism" for British Transport Police.
Cash payments
Recent years have seen soaring global market prices paid for scrap metal.
Campaigners, including Mr Kelly and Margot James, Conservative MP for Stourbridge, believe banning cash payments at scrap dealers would improve transparency and allow items to be better tracked.
Ms James described outlawing cash payments as a "central demand" of the all-party group.
Mr Kelly and Ms James met with Lord Henley - the government minister charged with tackling metal thefts - last year to discuss the issue.
Lord Henley confirmed the government was considering changing the rules regarding cash payments, among other options, such as stricter identification checks for those selling metal to scrap dealers.
An association representing the industry said that stricter photo identification was a better option.
Ian Hetherington, from the British Metals Recycling Association,​ said outlawing cash purchases would only "drive the business underground into illegal operation and potentially encourage the growth of organised crime".