Birmingham among New York Times' places to go in 2012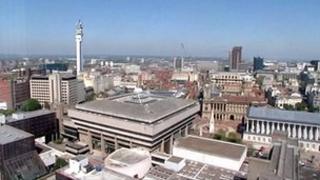 Birmingham has been ranked among the top 20 international destinations to visit in 2012, in a list compiled by the New York Times.
The city was ranked 19th in the list of 45 places the newspaper recommended people visit and was chosen because of its growing culinary reputation.
It was ranked ahead of Vienna, the Maldives and finished one place higher than outer space.
Other UK locations to feature in the list include London, Glasgow and Wales.
David Else, who wrote the Lonely Planet Guide to Great Britain, said: "What these kind of lists are hoping to achieve is to intrigue and inspire tourists to discover places that are not normally on people's radars."
Jerry Blackett, chief executive of Birmingham Chamber of Commerce Group, said: "The rise in popularity of Birmingham as a leisure and tourist destination has been rapid.
"Birmingham's cultural, entertainment and gastronomic attractions do now indeed compete with the very best - it's official."
'More atmosphere'
Asking the question "Could Birmingham's second city be first in food?", the New York Times told its readers that Birmingham was named the UK's "foodiest town" by Olive, the BBC's food magazine, in October last year and said a series of top chefs were adding to "an already rich dining scene" which featured the famous curry district the Balti Triangle.
Jon Bounds, who runs a website promoting Birmingham, said the city had often been compared unfavourably with cities like Manchester.
He said: "There's a kind of prejudice which seems to be tolerated where it's OK for people to stick their noses up at certain cities.
"Birmingham has struggled with its media perception, but it's definitely starting to change."
And Mr Bounds said it was justified to place Birmingham ahead of a visit to outer space on the list.
"There's a lot more atmosphere here for a start," he said.
"It might be less exciting than outer space, but there's definitely a lot more to do here."