Birmingham City Council's budget consultation ends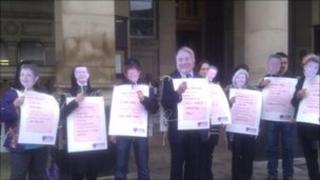 Consultation on Birmingham City Council's 2012-13 budget, which could see up to 1,200 jobs cut, ends later.
It started in October 2011 as the authority tries to save £65m to help reduce the national deficit.
The council previously said the job cuts, which would come into effect in 2012-13, would be in addition to the 2,450 jobs cut in 2011-12.
But they added they were not guaranteed if the public could suggest other ways for the authority to save money.
The authority, which is run by a Conservative and Liberal Democrat coalition, has proposed cutting jobs across departments including Adults and Communities and Children, Young People and Families.
Other proposals include generating income by setting up a Birmingham lottery scheme and transferring some services to voluntary and private firms.
Council workers union Unison said the council had not considered the wider impact of the cuts.
As part of the consultation, a series of public meetings were held around the city and residents were also invited to submit their views online.
The proposed budget is due to be submitted to cabinet on 13 February before it is put before the full council for ratification on 28 February.