Dudley Zoo's fears flamingos 'might blow away' in gales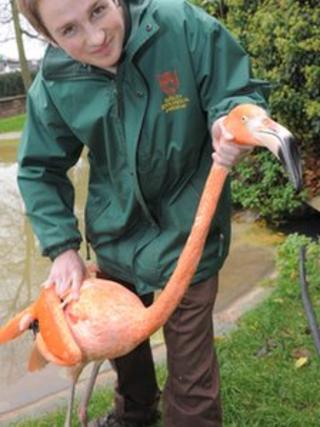 Zoo keepers spent 30 minutes trying to catch a flock of flamingos they feared would be blown away in strong winds.
The seven birds at Dudley Zoo have clipped wings and cannot fly but were being buffeted by gusts of 30mph (48km/h) on Thursday.
The winds threatened to sweep them off their legs and keepers feared they would be injured upon landing.
They are difficult creatures to catch, because they run fast and have powerful beaks like a swan's, the zoo said.
The birds weigh between 5.5lb (2.5kg) and 7.7lb (3.5kg) each and can easily outrun a human, the zoo said.
Zoo curator Matt Lewis said: "They can give a nasty peck if you don't get it right. Their beaks are very powerful, rather like a swan's, and leave a deep bruise.
"The best approach is to corner them and then move them by putting a hand around their neck and another across their body - and believe me, that's much easier said than done."
Another spokesman for the zoo said the flamingo enclosure was a relatively exposed outdoor area measuring about half an acre (0.2 hectares) with low walls to allow optimal viewing.
The winds were causing the birds to become distressed and had they broken their legs, they would have had to be put down, the spokesman added.