Birmingham celebrates 2012 Olympic role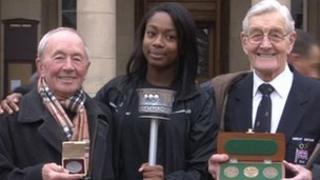 Birmingham's role in the 2012 Olympic Games has been marked at a special ceremony in the city.
Double Olympic medal winner Tommy Godwin, 91, joined 14-year-old athlete Amelia Benjamin to pose with a 1948 Olympic torch in Victoria Square.
The event was held to celebrate the city's role in hosting the USA and Jamaica track and field camps in the lead-up to next year's Games.
It also marked the part played by the city's athletes in past games.
Birmingham-based Godwin won two bronze medals in cycling events in 1948, the last time the Olympics were held in Britain.
He said the city and the wider Midlands had already benefited commercially from the 2012 Games and added that there should be a "tremendous spin-off" for the region next year.
He was joined in Victoria Square by fellow cyclist Harry Reynolds, who won silver in the 1956 Games, and teenage sprinter Amelia Benjamin, part of the Birchfield Harriers club.
Benjamin said it was "very inspiring" to meet the former Olympians and said she was targeting the 2016 Games in Rio.
The 2012 torch is due to visit Birmingham on 1 July on its way to Coventry, which will host Olympic football events.
The 160-strong US track and field team will train at Birchfield Harriers' Perry Barr stadium, while 60 athletes from the Jamaican squad will be based at Birmingham University.