2,500 queue at Birmingham's Bullring for Boxing Day sales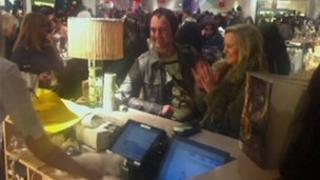 About 2,500 shoppers queued from 02:00 GMT at a Birmingham shopping centre for the Boxing Day sales to begin.
The Bullring Shopping Centre said as well as the crowds outside Next, 9,000 people had entered the centre by 09:00 GMT.
Tim Whalley from Bullring said December had a been a "fantastic month" with a record 1.3m customers last week thanks to schools breaking up and no snow.
Customers also queued from 01:00 GMT at Next at Merry Hill in Dudley.
Some companies began their sales online on Christmas Eve.
E-retail experts predict that online consumers would spend £186.4m on Christmas Day and £367.8m on Boxing Day.
'Welcome surprise'
Mr Whalley said he expected more than 225,000 people to pass through the shopping centre by the end of the day, with 150,000 visiting tomorrow.
He said: "December has been a fantastic month for us. We've seen growth on every week including where we set new records with 1.3m customers.
"I think most people were saying Christmas was going to come later.
"I think the benefit this year, the children had broken up for a full week before Christmas so obviously a lot of families were around and the weather was obviously better this year than last year.
"It did surprise us just with the volume (this year) but it was a welcome surprise."