Meriden Gypsy site protesters vow to 'wait it out'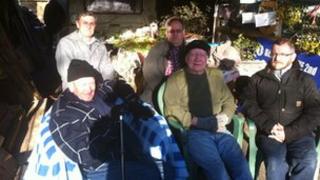 "The camp has become my life now."
Before a group of travellers moved on to a patch of land in the West Midlands village of Meriden, Dave McGrath spent his spare time going walking and his evenings watching TV.
Now he is among a band of villagers manning a 24-hour protest camp aiming to prevent the travellers from staying there permanently. The protest has been there since April last year and marked its 600th day on Thursday.
The training consultant said: "I volunteered and have been involved daily since then, it's full time.
"Apart from work, all the things I used to do have fallen by the wayside."
Angered by the travellers taking up residence in a field in Eaves Green Lane, the Meriden villagers formed Residents Against Inappropriate Development (Raid).
Under that banner, their 24/7 protest has been visible outside the camp ever since. It is run by 200 people who fill a rota that varies from one hour shifts to six or seven hours overnight.
'Greenbelt devastation'
Mr McGrath said: "The camp is never unattended so it's a remarkable effort, it's a whole cross-section of the community.
"Some of the people who help out are farmers delivering wood, others stop by with cakes or boxes of tea bags."
The protesters say they are making a stand for the environment and will maintain Raid's campaign until the travellers are removed from the site.
Mr McGrath said: "Our protest is about enforcement. This is a green lung that prevents urban sprawl. It's called the Meriden gap and separates Coventry, Meriden and Solihull.
"We're also motivated by opposing unethical development in the countryside. Since we started our campaign 50 villages have contacted us saying they've had exactly the same thing happen to them.
"We feel that the real intention is for a residential and commercial development and that's what we're opposing."
But they are adamant the protest is not racially motivated.
"We don't judge people by their background, we judge them by what they do and what's been done is devastation of the greenbelt," Mr McGrath said.
The travellers lost their appeal to stay on the land in October, however their caravans remain on the site. They had applied for permission for 10 permanent pitches but Solihull Borough Council said it broke greenbelt regulations and had inadequate traffic access.
Joseph Jones from the Gypsy Council said the environment was just a platform being used by the protesters.
He said: "I know Meriden's site well. It's obviously a camp set up to object to the race of the people and it would be ridiculous (for them) to talk about the elephant in the room."
Raid campaigner Les Lloyd, 77, moved to Meriden eight years ago because of its location and now fills two shifts each week at the camp.
He said: "I came here mainly for the peace and quiet and the walking. This is a fantastic place - I can sit in my armchair and see wild deer.
Waiting game
"We've got to keep this kind of thing for the kids and those that are going to come after us.
"It's often said here that if a block of flats was being built we'd still be here. We've got to keep the greenbelt. We cannot keep allowing it to be built on."
Raid has been given until January to tell the borough council its intentions over the camp in Meriden. The council had been due to decide whether to issue an enforcement notice on the protest camp on Wednesday but has postponed its decision until February.
Even if the protesters are ordered to remove the camp, Mr McGrath said he was confident the campaign would continue "for as long as it has to".
He said: "We're happy to sit in the snow if necessary. If anything Raid gets stronger every day."
Members of Raid are holding a carol service at the camp and Mr McGrath said he will be doing a night shift at the camp into Christmas Day.
He said the protesters did not want it to become "another Dale Farm" scenario.
"I've given up predicting when this will end. We've just bought into the fact that this is a very lengthy process. We just have to wait it out.
"I would like this to end, we don't want to be here but I wouldn't be surprised if we were here for a third Christmas."