Classical music deters teenagers from shopping centre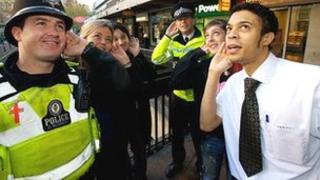 The sound of Bach, Mozart and Beethoven has reduced anti-social behaviour outside a Birmingham shopping centre, according to police.
In November, the PA system on the ramp leading to the Pallasades on New Street was upgraded.
The aim was to pipe soothing classical music to create a welcoming environment for shoppers and commuters.
Within days, police officers and shopkeepers noticed the number of teenagers hanging around had gone down.
But many of the youths returned when the system was temporarily switched off to allow for additional tracks to be uploaded.
PC Dominic McGrath, who masterminded the scheme, said: "We've been surprised by the effect the music has had on young people.
"Since the scheme went live, fewer young people are gathering on the ramp and we've seen a dip in the number of people who are asking us to move them on.
"Clearly, they don't like our choice of tunes."
The music is broadcast between 9:00 and 21:30 GMT on weekdays, and from 12:00 to 21:30 at weekends.