Meriden Gypsy site protest camp removal order considered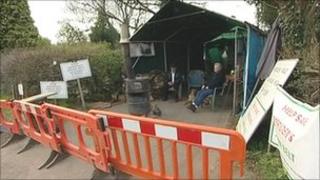 Solihull Council will decide later whether to order the removal of a protest camp outside an unauthorised Gypsy site.
The Residents Against Inappropriate Development (Raid) protest camp is in Eaves Green Lane, Meriden.
Dave McGrath, from Raid, said the protestors would be "happy to sit in the snow if necessary."
Joseph James, from the Gypsy Council, said: "If the council says they're allowed to stay we'd have to ask why."
The council's planning committee will meet to decide whether to issue an enforcement notice on the protest camp at 16:30 GMT.
'Whatever the weather'
A spokesman said it had delayed taking enforcement action until an appeal against the refusal of planning permission was was dismissed on 23 November.
Villagers set up the camp in the gateway to a builder's yard in 2010 to monitor the travellers and protest against the site.
Protests began shortly after the unauthorised site was set up at Meriden in May 2010.
Mr McGrath said: "We've got an awning, a wood burning brazier and a caravan. If those offend the planning system and the council we will take them down then be back on the site.
"We're a group of people committed to come back whatever the weather without shelter - we're happy to sit in the snow if necessary."
Mr Jones said: "We'd have to ask does the council have no confidence in its own ability if they're allowed to stay."
The travellers lost their appeal to stay on the greenbelt land in October this year.
They applied for retrospective permission to build eight permanent pitches for their caravans.
The council refused planning permission and the appeal upheld the council's decision.