Royal Mail's temporary Christmas staff threaten walkout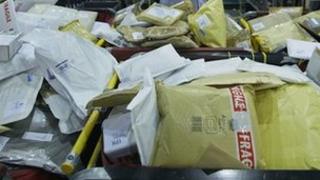 Seasonal staff at a Birmingham sorting office have threatened to walk out after a delay in paying their wages.
Agency staff were recruited at Royal Mail's Newtown depot to help tackle an increase in post at Christmas.
The temporary staff are meant to be paid weekly, but some said they had not received a wage in three weeks.
Royal Mail said it had experienced problems with its payroll system and staff would be paid as soon as possible.
In a statement, the company said it was issuing workers who were not paid with a voucher for their pay which they can cash at any Post Office branch.
Busiest time
A spokesman said: "We apologise for this as our temporary Christmas staff are very important to us.
"Firm action is being taken to resolve outstanding pay issues. We apologise for the difficulties that this situation has caused to a minority of our temporary workers."
Thirty-four staff walked out on Monday over unpaid or incorrect wage payments.
It follows a similar situation at a Wolverhampton sorting office last week and in Essex on Monday.
About 18,000 temporary staff have been recruited by Royal Mail across the country at its busiest time of year.
The staff are employed via Angard Staffing Solutions, an agency owned by Royal Mail and managed by Reed Specialist Recruitment.
Royston Allcock, one of the workers at the Newtown office said: "It's going to be a quiet Christmas, because I was relying on the money."
Mr Allcock, who also runs a small internet company, said he had intended to use the money to buy Christmas presents for his three children.
He added that many people who had joined as temporary staff had previously been unemployed and had stopped receiving Jobseeker's Allowance to take on the work.