Football League founder William McGregor's grave rededicated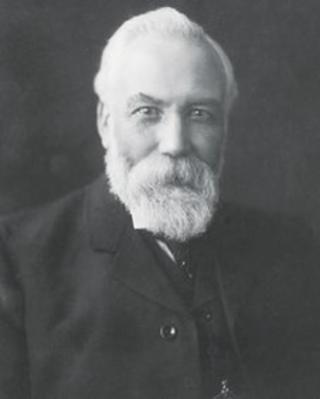 The grave of the founder of the Football League and former chairman of Aston Villa has been rededicated.
William McGregor was born in Braco, Perthshire, in 1846 and became chairman of the Birmingham-based club in 1886 before founding the league in 1888.
The Aston Villa Supporters Trust has raised about £1,000 to clean up the gravestone.
Trust chairman, Peter Warrilow, described McGregor as "a towering figure in world football".
He said: "William McGregor was far more than a director and chairman, he was the promoter of the first football league in the world.
The trust also helped commission a statue of McGregor which was erected outside Villa Park in 2009.
Mr Warrilow described him as an "inspirational man" as he was the driving force behind the first organised sports league in the world.
He said: "Before McGregor there was no certainty for spectators - games would be cancelled whereas if there was a league and a proper structure teams couldn't pull out."
Peter Lupson, a football author and historian, brought the issue of the grave to the club's attention while writing Thank God For Football.
He said: "McGregor's one of the three most important men in the history of football.
"As father of the Football League he's effectively the father of all football leagues - the one he founded was the prototype.
"He ranks alongside Ebenezer Cob Morley who gave the world the name soccer as we know it and also Charles Alcock who created the FA Cup and launched international football - he's up there with those people."
Mr Lupson said it is important to remember the role Mr McGregor played in the modern game, along with other people involved in the early days of the football league.
He said: "He's been forgotten for the same reason that all the great pioneers have - people are so involved in the present day that there's no time to focus on the past.
"I made it my mission to rescue the names of some of these great men from obscurity."
Lord Brian Mawhinney, president of the Football League, and officials from all 12 of founding clubs attended the service at St Mary's church in Handsworth on Tuesday.
The gravestone also had the words "Founder of the football league and chairman of Aston Villa FC" added to it.
Aston Villa's archivist, Laura Brett, said: "It's a hugely important recognition, not just for Villa but for football in general across the world.
"It's important to ensure that's he's not forgotten."