Crocodile found in box outside Wolverhampton pet shop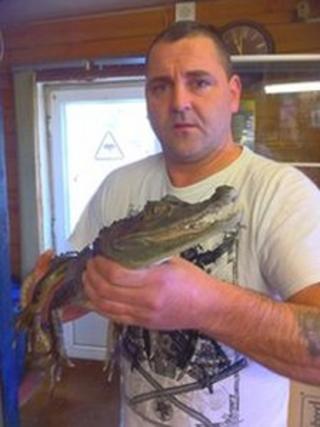 A pet shop in the West Midlands is trying to find a new home for a young crocodile thought to have been abandoned on its doorstep.
The South American crocodile, which could grow to 2.5m (8ft) long, was found in a plastic box outside Wickid Pets, Wolverhampton, earlier this week.
Owner Jimmy Wicks said legally bought crocodiles had to be microchipped.
"This has been scanned and there's no chip in it and so it's obviously come through the black market," he said.
He hopes to find a new home for the female crocodile, who is four or five years old and currently a metre long, at a local safari park.
Bob Lawrence, Director of Wildlife at West Midlands Safari Park, said people often bought exotic pets without realising what they were taking on.
"It's people like us and the RSPCA who have to pick up the pieces once they become unmanageable or escape," he said.
Mr Wicks said it was not the first time the shop had had to look after an abandoned crocodile.
"It's the fourth one we've had in 18 months and so now when we see a plastic box we have to approach it with caution," he said.
He said they had also had to find homes for turtles, birds of prey, snakes, and lizards that had been left outside the shop.