'Speak Brummie' app is released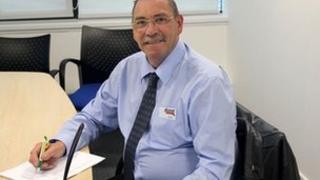 A retired paramedic whose family has lived in Birmingham since 1767 has been chosen as the "voice" of the city.
Alan Dugmore, 65, features in a new mobile phone app which helps people understand the Brummie dialect.
Mr Dugmore, who lives in Quinton, was chosen after a series of test recordings and interviews.
He has lived in the city all of his life and traces his family history in the Midlands back to 1746 when his ancestors lived in Staffordshire.
The app, developed by a Manchester-based IT company, follows on from a similar one which translates from Wiganese - the Wigan dialect.
The latest version, iBrummie, will allow users to play phrases in Brummie and translate them into standard English. The app will also translate common phrases into Brummie.
Ajay Kapadia, director of Athernet Web Solutions which developed the app, said: "We had a number of applicants and it was a very close thing. Some people we listened to seemed to be trying too hard and in the end we felt that Alan's is a genuine dialect that has been developed over many years.
"Other applicants auditioned by sending computer files, but Alan's first test was done over the telephone. We knew it was something special straight away."
Mr Dugmore, who is married and has two children and three grandchildren, said he was delighted to be chosen.
"It's bostin," he said.
He added he was keen to get involved in the project and provide a number of extra phrases that he has used over the years and correct some errors.
"Some of the phrases were more Yam Yam [Black Country dialect] than Brummie so I soon put them right on that," he said.
"It's great being involved in the iBrummie app as I'm keen on local history and something like this really brings it to life."
Mr Dugmore joined the ambulance service in 1983 and was recruited as one of Birmingham's first paramedics in 1990.
He spent more than 20 years with the service until he had to retire through disability in 2004 following treatment for cancer.
He added he did not dwell on his disability and had enjoyed his time with the ambulance service.
A spokesman for the company said they are looking at the possibility of doing a yam-yam app in the near future as well as other regional dialects.