Common Purpose inspires Birmingham's young unemployed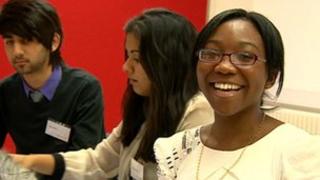 A lack of experience is frustrating the job prospects of hundreds of thousands of Birmingham young people, workshops held in the city have found.
Birmingham has one of the youngest populations of any UK city and competition for jobs is high.
UK youth unemployment has reached a record of more than one million.
Not-for-profit organisation Common Purpose has held workshops to encourage local young people to approach the job market more confidently.
Three one-day events depended on business leaders from a range of companies in the city to share their tips for getting a job.
Of the 17 18 to 24-year-olds who attended the workshops, most said they had struggled to find work due to a lack of experience.
'Something constructive'
Jay Birdie, 18, left King Edward Sixth School this year with A*, A and B grades at A-level.
He said he hoped to study financial mathematics at university next year.
In the meantime, he has been looking for work.
"The hardest thing is experience. Accountancy firms have just bypassed me because I didn't have enough experience.
"I felt really empty doing nothing at home. I was wasting my time, feeling sorry for myself."
While searching for work he has now found a position volunteering with Envision, a charity which works in schools and communities across the country offering citizenship education.
"I want to get a job, but I'm glad I can do something constructive with my time now," Mr Birdie added.
Volunteering is just one of the tips suggested at the workshops. Building confidence and "resilience" is another.
Louise Teboul, operations director at Common Purpose, said: "We've done quite a lot of work getting groups to interact with senior people from across the country.
'Aren't hiring'
"We encourage them to think about how they project themselves in interview situations.
"Sadly they will get some no's, but we've talked about how to keep motivated and keep going."
Twenty four-year-old law graduate Esther Francis knows something about keeping going.
She graduated from Birmingham City University last year and has been looking for a traineeship ever since.
"Competition for training contracts is so high at the moment because there are very few around.
"Companies either aren't hiring, or are hiring people with more experience," she said.
Ms Francis's search for work has taken her beyond Birmingham to the US.
She has visited New York to look for a job and, since the workshops, has been talking to a Texas law firm about working in Houston.
She is planning to travel to Texas in February to discuss the opportunity.
The emphasis of the workshops has been on sharing best practice within the peer group, but Ms Teboul said she had been impressed by the support offered by local businesses.
She said Common Purpose had made a plea to its contacts for donations to run the events, either money, time or venue space.
The Midlands Arts Centre, along with the Nishkam Centre and Community Roots on the Soho Road, all offered workshop space.
Local industry leaders were also happy to come forward and share their advice.