Netherton canal tunnel 'on the move'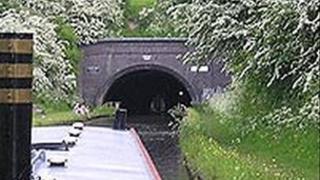 Cracks and bulging bricks have been found on a 150-year-old canal tunnel in the West Midlands.
British Waterways' engineers are investigating after tests showed the lining of Netherton Tunnel's centre sections had moved.
They will spend the next few days carrying out tests to find out the nature of the movement and possible causes.
A spokesman said the tunnel was still structurally sound.
Senior manager Dean Davies said the tunnel was known to suffer from ground movement and that is was monitored on a weekly basis.
"We are currently concerned about the amount of movement happening in the centre section of the tunnel, which is a common weak spot in tunnel design," he said.
The tunnel, which is 3,058yd (2.8km) long was completed in 1858, and was the last major tunnel to be built on the UK's canal network.
Vic Smallshire of the Dudley Canal Trust say in terms of diameter it was the biggest in the country and, when it opened, was the M1 of its day.
Before it opened, boats could have waited up to two weeks to use the previous Dudley tunnel, which was only wide enough for one boat to pass through at a time.
During the works, the canal will be restricted to boat traffic at intervals and the west side towpath will remain closed.