Striking workers march through Birmingham city centre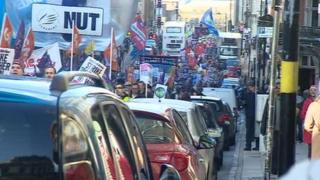 Thousands of marchers waving different coloured union banners and flags wound their way through Birmingham protesting against planned changes to their pensions.
Shoppers stood and watched as striking workers made their way past St Philip's Cathedral and New Street station, the atmosphere buoyant and determined.
To the sound of air horns and whistles, the protest was led by a team of marshals through the city streets to the National Indoor Arena (NIA) where a rally was taking place.
Camera crews, photographers and reporters were out in force capturing the long procession of striking workers.
They were demonstrating against government proposals to increase public sector workers' pensions contributions and to raise the pension age to 67 by 2026.
'Getting less'
One of these leading the march was Tony Woodley, executive officer for the Unite union.
He said he thought thousands had turned out from the many different unions and professions represented.
The coalition government has criticised workers for striking while negotiations are still continuing.
It said its offer to public sector workers was fair and pensions reform was needed to reduce the burden of the pensions bill for the taxpayer.
Forty-year-old Hayley Evans, a teacher from Wolverhampton, said the pension changes were unfair.
"It means another seven years' service with little pension at the end of it, paying more, getting less," she added.
Steven Godfrey, 52, a union representative who works for University Hospitals Birmingham, claimed it was a "myth" that public sector pensions were better than private ones.
'Makes you realise'
"I've got both and my private sector pension is far better than the one I will receive off the public sector, that's without the cuts that they're proposing," Mr Godfrey from Bromsgrove said.
Birmingham lecturer, Rita Wright, said changes to pensions could stop people coming into teaching.
The 57-year-old from Sandwell said: "Teachers at the moment, relative to people in private industry who're educated to the same level, are on a lower standard of pay anyway.
"One of the things that they look towards, being in the public sector, is that they will have a pension at the end of it. If that's taken away or lessened to such a degree, it's another element to stop people coming into the career."
Shoppers and people going about their business in the city centre watched as the march made its way through the streets, bringing traffic to a temporary halt.
The march ended at the National Indoor Arena for an afternoon rally.
Placards and banners were put away as the striking workers took their seats for a series of speeches from union leaders, their words punctuated by applause and standing ovations.
Dave Prentis, Unison general secretary, said "history had been made".
"Be proud of what you have done today. The day you made your stand, the day you made a difference, the day you all made history," he told the rally.
Out on the city centre streets, there was a mixed response to the public sector workers' action.
Barbara Howes, a 24-year-old student in Birmingham, said she supported the strikers.
"They're causing quite a lot of impact in the city centre. I didn't really realise it affected so many people but when you see it like this, it makes you realise," she said.
Forty-two-year-old Michael Gardiner from Birmingham said: "I think it's very good what they're doing, I think they're fighting for their rights."
However, Derek Hurst, 69, said he did not agree with the strike action.
"I was a self-employed person, paid into my own pension. If I hadn't paid into my own pension, I wouldn't have the quality of life I've got now.
"My pension will only be half of what basically a lot of the public sector pensions are going to be, even though I had to pay it in myself, no one paid into my pension," Mr Hurst said.
Another man from Telford said he had to take a day off to look after children.
"They have pensions that the private sector just don't get any more and most people in the private sector have had to take a day off today to look after kids," he said.