'Blind Dave' Heeley supports Macmillan Cancer charity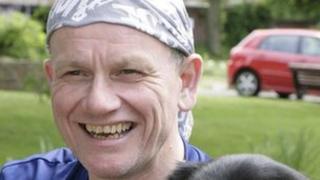 A blind man who ran seven marathons in seven days on seven continents for charity has given thousands of pounds to help Macmillan Cancer Support.
Long-distance runner, Dave Heeley, from West Bromwich, met the charity's patron Prince Charles earlier.
Mr Heeley, who is known as Blind Dave, completed the feat in August.
At a ceremony in Birmingham on Thursday he presented the charity with a cheque for tens of thousands of pounds and said it was a "very worthy cause".