Children in Need-funded Shoot 4 Boots helps riot areas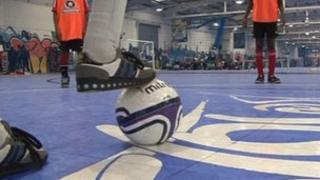 A project which donates second-hand football boots to children living in deprived communities has received more than 1,000 pairs in the past two years.
Shoot 4 Boots, funded by BBC Children in Need, has also put on coaching sessions in areas of the West Midlands affected by the August riots.
The campaign aims to steer children away from anti-social behaviour.
Boots have been donated by local football clubs, including Walsall and Wolverhampton Wanderers.
'Make family proud'
The project is based in Ladywood, Birmingham, and coaching sessions are being run in areas such as Newtown, which experienced tensions during the August riots.
It is run by Centre Spot, a non-profit company that uses sport and physical activity to engage communities.
A report carried out this year by Campaign to End Child Poverty suggested that 49% of children in Ladywood were living in poverty, making it the fourth most deprived place in England.
So far, it is believed that 300 pairs of football boots have been issued at the coaching days .
Hameedh Massan, a 12-year-old who hopes to play for Manchester United, is one of the boys to benefit from the boots.
He said: "I've just always wanted to be a footballer. If you do something you like and become what you want to, you'll make your family proud."
His foster parent, Keith John, said: "There are people out there who are needy, there are people out there who haven't got. I think he will cherish and look after these ones better."