Birmingham prison boss Peter Small wants inmates to work more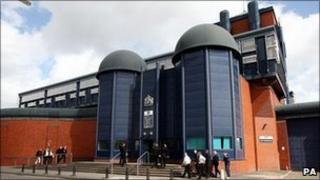 The new director of Birmingham prison has said that he is in favour of the government's initiative to make prisons places of work.
Peter Small was put in charge of Winson Green when it was taken over by the private security firm G4S last month.
He said that getting prisoners to do more work would cut reoffending rates.
Justice Secretary Ken Clarke wants inmates to work a 40-hour week and to increase the number of full-time prison industry jobs from 9,000 to 20,000.
"I would be very interested in expanding the range of work and activity that is available for prisoners at Birmingham," said Mr Small.
"One of the major issues that surrounds prisoners when they leave prison, along with accommodation, is employment.
"Securing employment and securing accommodation will help significantly to lower the risk of reoffending."
Online visiting system
A recent investigation by BBC WM showed that family members were finding it virtually impossible to see relatives who were locked up in Winson Green.
"There was a particular issue over a couple of days where there was some disruption to the service that is provided for visits.
"We acknowledge that and I can only apologise to anybody that was affected," said Mr Small.
He confirmed that plans were now in place to overhaul the visiting system - giving prisoners the option to book their own visits online, using computers.
"The technology is designed... to give ownership and responsibility back to prisoners."
HMP Birmingham was the first existing public sector prison in the UK to be transferred to the private sector when G4S took over the running of it from the government.