Thousands join West Midlands Police 'tweet-a-thon'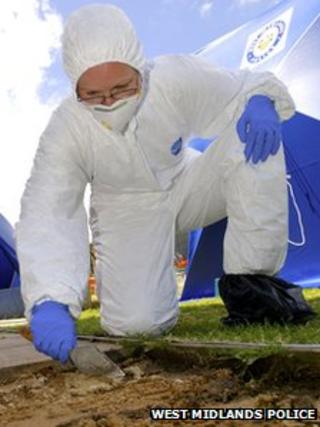 Thousands of people all over the world joined in as West Midlands Police forensic investigators tweeted live from real crime scenes.
The day-long "tweet-a-thon" began on Thursday at 07:30 GMT.
Birmingham Police already had about 8,000 Twitter followers and attracted 2,000 more over the course of the day.
Supt Richard Moore, who heads the team, said he was "overwhelmed by the interest both nationally and internationally".
Police in the city tweet regularly under the handle @brumpolice, with news of incidents in the city and safety and security advice. The wider West Midlands force also has a Twitter account, @WMPolice.
'Really worthwhile'
Supt Moore said social media network followers of West Midlands Police had been asked what they were interested in. They had said they would like to know more about forensics and crime scene investigations and so Thursday's tweets came from forensic scene investigators (FSIs) as they gathered evidence of suspected crimes.
He said they had received tweets from lecturers, students and people wanting to join the police force.
Supt Moore said the force had taken legal advice before going ahead with the "tweet-a-thon".
"We had to make sure that nothing would affect the integrity of the scientific process of the investigation, or anything that might end up in the criminal justice system," he said.
He felt the experiment had been useful, saying: "The transparency that this brings has been a really worthwhile exercise for us."
Jack Dee
The FSIs tweeted about burglaries, robberies, recovered stolen vehicles, gathering of fingerprints and blood samples and taking photos of crime scenes.
A spokesman for West Midlands Police said it had "captured the public's imagination" including that of comedian Jack Dee, who had joined in the tweets.
Dee retweeted several of the officers' messages and described one, in which an investigator said he was going to examine a window at a burglary scene with magnetic powder, as "cool".
"It has really opened people's eyes. Programmes like CSI, Dexter and The Bill give the impression that it's all instantaneous. We have been dispelling some of those myths," the force spokesman said.
There are around 100 forensic scene investigators working for West Midlands Police.
The force plans to have similar Twitter initiatives in the future for other police departments.