Protest over BBC Birmingham factual programming Bristol move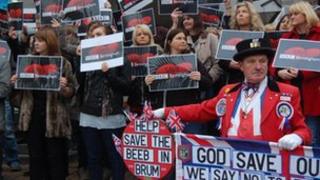 More than 100 people have protested in Birmingham over plans to move BBC national factual programme-making from the city to Bristol.
The Chamberlain Square event was held over plans which the BBC has said would affect more than 100 Birmingham posts.
One protest organiser, Oliver Clark, said they wanted "to take the story" into the centre as it was important for the area that "the BBC stays here".
About 60% of staff affected will be offered jobs in Bristol, the BBC says.
Programmes such as the Hairy Bikers and Countryfile and coverage of RHS flower shows will move from BBC Birmingham's base at The Mailbox from August 2012 following last month's announcement.
'Makes sense'
Asked about the proposals, Mr Clark, a series producer, said the protest was not just about jobs.
He said: "The big issue is that they want to close the factual television and radio department at BBC Birmingham.
"It's about the fact that the Midlands is one of the largest regions in the country and will have no BBC factual presence at all."
Following the announcement last month, the BBC's controller of factual production, Tom Archer, said: "Bristol is the largest centre of documentary and factual in-house television production outside London.
"It simply makes sense to combine the strengths of Bristol's factual television programme-making with Birmingham - and to locate it where we have the strongest base."
The BBC's Inside Out programme across England also faces losing posts, while staff at Midlands Today were told the programme would have only one weather presenter with the weather staffed partly from a regional hub in Nottingham and the number of bulletins reduced.
Job losses announced in Birmingham also included cuts at the Asian Network and local radio station BBC WM.
A report on the changes said: "Substantial network television drama (Doctors, Land Girls) and radio drama (The Archers) would continue in Birmingham alongside the BBC's local and regional services."