Oldbury kidnap inquiry: Neighbour describes finding boy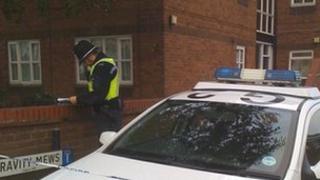 A woman has described the moment she found a 10-year-old boy who had gone missing in a suspected kidnapping.
He was reported missing by his family on Sunday when he failed to return home from a trip to the shops in Oldbury, West Midlands.
Neighbour Jean Masih was helping in the search when she saw the boy in the window of a property in Gravity Mews.
She said he called to her for help and she ran and got the police, who rescued him by lifting him through the window.
Forensic officers are continuing to search the block of flats.
Three arrests
The boy was reported missing at about 09:30 GMT on Sunday and was found unhurt two hours later.
Three men were arrested on Sunday on suspicion of kidnapping. Police have until 23:00 GMT to question them.
The men are aged 30, 48 and 49 and local to the area, West Midlands Police said.
Ms Masih said she had joined the search after the boy was reported missing, and she had been to speak to his mother.
"I started walking by myself and prayed and said, 'Let this boy be found', she said.
"Within seconds I looked towards the road where the flats were and I saw the little boy in the window."
She said she walked across the road to him.
"He said, 'Can you help me please? I've been kidnapped, I'm being held hostage'."
She said she told him she would go and get help and then ran to where she knew the police were searching nearby.
Officers followed her back to the house and lifted the boy out of the window, she said.
'Mums are worried'
Ms Masih said when she first saw the boy he appeared to be wrapped in a white sheet and looked scared.
She said she was still in a state of shock about what had happened.
The address where the boy was found is owned by Adullam Homes Housing Association Limited which houses vulnerable people who are difficult to find accommodation for.
Police said they wanted to make it clear that the property was not a bail hostel, contrary to local rumours.
The association, which provides housing and support to more than 1,000 people in the Midlands, Cheshire and Derbyshire, said members of the organisation were "shocked and appalled" by what had happened.
Some of the Oldbury residents have been there since the building opened in 1990, they added.
Staff have been helping West Midlands Police with its investigation.
Sarah Rowe, who lives near to the building, said: "Thank God the boy's fine, which is a Godsend.
"It is frightening. A lot of the mums are really worried about [safety] now.
"I never let my children out anyway, but I have seen young boys out playing.
"You shouldn't have to keep worrying about it, if they want to go out to play."
Another neighbour Juanita Crofts said: "I'm angry - I've lived in the area all of my life and nothing like this has ever happened here before."
Louise Evans, another resident, said: "My daughter has not left the house since. She is not allowed to play out."