Jaguar Land Rover creates more than 1,000 Solihull jobs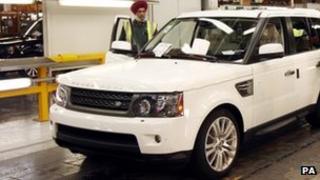 More than 1,000 new jobs are to be created by Jaguar Land Rover (JLR) in the West Midlands.
The new posts are being created at the company's Land Rover plant in Solihull, where nearly 5,000 people currently work, the firm said.
They are in support of the company's ambition to deliver "40 significant product actions over the next five years".
It said these could include new models or derivatives of existing cars.
Des Thurlby, human resources director at JLR, said: "This is great news for Solihull. We shall be increasing the plant workforce by more than 25%.
Recruitment campaign
"These jobs are well paid with great benefits. We expect to receive many thousands of applications."
The recruitment campaign, which has launched with national print and radio advertisements, is for production operators and skilled trades people.
JLR said the announcement meant that this year more than 3,500 jobs had been or were being recruited for, including corporate posts in financing and purchasing.
In April the company announced plans for 1,000 engineering jobs in the West Midlands region, with the majority of people now in position at Whitley and Gaydon.
About 1,500 apprenticeship jobs have been created at Halewood, Merseyside.
Following Thursday's announcement Prime Minister David Cameron said: "Every motor manufacturer you visit in Britain today is bringing on shore more of its supply chain and has plans for expansion."
Business Secretary Vince Cable said it was "fantastic news for Solihull".
He added: "This is a positive story of growth for the plant that was once under threat of closure. It is now expanding and has ambitious product plans."
Unite national officer Roger Maddison said it was "welcome news" and "a testament to the skills and dedication of the whole JLR workforce".
"This proves once again that the UK car industry is the place to invest."
Former Rover managing director and honorary professor at Warwick Business School Kevin Morley said: "They really are on a roll.
"They're demonstrating their success by employing more and more people."
Solihull council leader Ken Meeson said: "It's our largest employer and so thousands of people depend on it for their jobs, not just those people working on the site but of course those working in the supply chain.
"It's not that long ago that we were worried about the survival of the Lode Lane [Solihull] plant and now we have this expansion, not just here but across the country at other sites."
The group HQ is based in Warwickshire, with Land Rover vehicles manufactured in Solihull and at Halewood.
Jaguars are produced by the same group - owned by Indian car manufacturer Tata - at its Castle Bromwich site in Birmingham.
In September JLR said it was to create up to 750 jobs at a new factory on a site near Wolverhampton on the Staffordshire-Wolverhampton border.
The luxury car maker is spending £355m to build low-emission engines on a 120-hectare site at a business park near the M54. Work at the site is due to start early next year.