Birmingham binmen set to strike from end of November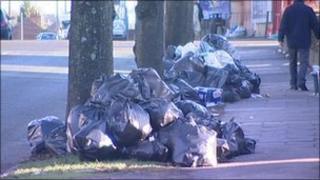 Birmingham bin collectors are set to strike later this month because of a dispute with the city council over proposed changes to pay and conditions.
Unions representing the binmen said they could lose between £1,000 and £7,000 a year if the changes go ahead.
The GMB said it was "considering a whole week of industrial action towards the end of the month". It is thought it would begin on 28 November.
The council said the threat of strike action was "regrettable".
It will be the second time this year the city's binmen have chosen to walk out, having already staged a strike in January.
'No alternative'
In a statement, the council added that as with previous actions it had "contingencies in place to minimise the impact of any union action upon residents".
"For the sake of the people of Birmingham, we'd urge the unions to reconsider."
Paul Langley from GMB said workers had "no alternative but to take this action" despite the council previously saying consultation, which was to have ended on 31 October, had been extended to the middle of November.
"We haven't spoken to the council for maybe two weeks.
"It's not our fault if the council won't sit down and talk to us.
"We asked them all through the summer to sit down and have talks with us," he said.