Occupy Birmingham protest moves for German market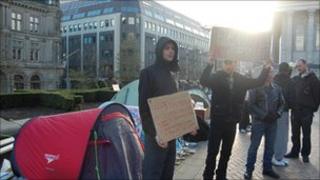 Protesters in Birmingham city centre have moved their camp at the council's request to make way for an annual German Christmas market.
Campers pitched their tents in Victoria Square last month as part of a protest movement against corporate greed which has spread from New York and Spain.
The Birmingham protesters said there was no contradiction between their aims and moving for the Christmas traders.
They moved to the community gardens by Symphony Hall on Wednesday afternoon.
The Frankfurt Christmas Market opens in the city on 17 November.
'Great for city'
Last week, Birmingham City Council served Occupy members with a notice to vacate the area by 3 November and offered to help them with homelessness support, should they want it.
The council said: "We have done this in order that the council is able to reclaim the site for public events and use."
Birmingham Occupy protester Symon Bailey said moving the camp of 14 tents did not prevent them walking around and speaking to people. It also did not undermine efforts to raise public awareness of their cause, he said.
He said the group was in support of the German market, adding "in the short term, it's great for the city".
"It's great for us and on the 19th of November there's a reindeer parade in the spot we would have been and we have children and they might want to attend that too."
He said the group wanted to maintain good relations with the council.