Christine Hemming cat theft case: 'Wrong kitten' found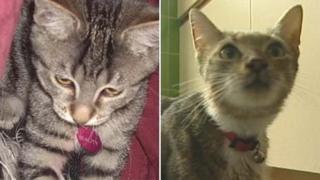 A kitten found in Birmingham thought to be the pet stolen by an MP's wife from her husband's lover's house is "probably not the right cat after all".
Christine Hemming, wife of Birmingham Liberal Democrat MP John Hemming, took Beauty last year.
It was thought that a cat found in Sparkhill was the missing pet.
But an animal charity cast doubt on the identification and Mr Hemming has admitted there was a "fair chance" it was not Beauty.
Coat colour
Mr Hemming, MP for Yardley, said on Monday that a woman had contacted his constituency office last week to say she had been looking after a cat who had turned up at her home and she wondered if it was Beauty, who has been missing since September last year.
At first the MP thought it was Beauty as she had got on with his other cat Twinkle.
However Cats Protection compared pictures of the two animals and said there were differences between them.
Its field veterinary officer Vanessa Howie said: "Due to genetics, a cat's coat colour and markings are set from birth so the marking patterns don't change.
"These factors indicate these are two different cats."
Mr Hemming said: "We think there's a fair chance that it isn't Beauty... we thought it was the right cat, it was the wrong cat, these things happen."
Mr Hemming said it turned out that the cat was also being looked after by another family, where she had since had kittens.
"Even if it was Beauty, it wouldn't be appropriate to take it off the family...they've got kittens, they've offered one of the kittens to us," he added.
Christine Hemming, 53, was given a nine-month suspended sentence on Friday for burglary.
She was filmed on CCTV removing the pet from Emily Cox's home last year.
She was also ordered to do 150 hours of community work and pay £1,000 costs.
The MP's wife claimed she could not remember how the cat had come to be in her possession and denied that she had deliberately taken it.